Mobrey 9000 Pressure Transmitter
The Mobrey 9000 Series pressure transmitter is designed to perform in the arduous conditions of today's industrial measurement applications.
Using temperature compensated, surface mount electronics and a ceramic capacitive sensor, the 9000 series industrial pressure transmitter provides an accuracy of better than ±0.1% of calibrated span and excellent long term stability. One field replaceable PCB covers the entire product range and provides simple calibration over the 10:1 rangeability limits.
At the heart of the 9000 is the Ceramic Capacitive Sensor (CCS). This ensures extremely low hysteresis, high repeatability and high overrange capabilities. The CCS replaces the traditional metallic diaphragm and sensor assembly and provide outstanding resistance to chemical attack. pdf data sheet
Benefits
- Long term accuracy
- Simple installation
- Increased application flexibility
- Ceramic sensor immune to attack from process and CIP routines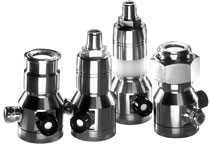 Applications
- Steam coolant
- Liquid
- Gas
- Brewing process
- Dairy products
- Viscous and dirty liquids
- PVF mills
- Superheater
- Furnace